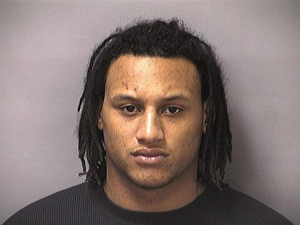 Cleveland Browns rookie linebacker Ausar Walcott was charged with attempted murder after allegedly punching a man outside of a New Jersey bar early Sunday morning, Abbott Koloff of The Record reports:
'Turned himself in'
Walcott, who told police he has been living with a friend in Maywood, was charged with first-degree attempted murder, second-degree aggravated assault and third degree endangering an injured victim, White said. He was arrested Tuesday morning after he turned himself in to police, and his bail was set at $500,000 cash, White said. He was scheduled to be sent to the Passaic County Jail in Paterson on Tuesday evening.
The Browns have released Walcott, according to ESPN's Adam Schefter.
'Critical condition'
The report states the supposed incident took place at The Palace Gentlemen's Club in Passaic. The charges stem from Walcott allegedly punching a 24-year-old man identified as Derrick Jones in the head just after 3 a.m. on Sunday.
Walcott signed with the Browns last month after attending the team's rookie minicamp. The New Jersey native played college football at Virginia, appearing in 45 games and making 128 tackles in four years with the Cavaliers.
Based on the latest information provided by The Record, the victim remains in critical condition at a local hospital.
How will this incident affect Ausar Walcott's football career? Feel free to share your speculations with us!
Source: Tim Daniels | Bleacher Report
Image: International Business Times