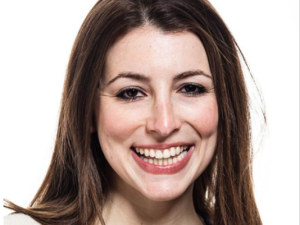 Lauren Silberman lasted just two kickoffs at a regional combine at the New York Jets' practice field in Florham Park, New Jersey before she pulled up with a quadriceps injury and was unable to continue. Silberman actually hurt her leg on the first kick, which traveled 19 yards in the air, before trying another boot that went 13 yards. Then, her day was done.
'Overall athletic ability'
The 28-year-old Silberman, a graduate student at MIT and ex-club soccer player in Wisconsin, had never kicked in a competitive football game before, but made the cut at this regional combine — kind of a minor-league version of the big combine that happened last week — based on her overall athletic ability.
'Incomplete'
Understandably, Austin graded Silberman's performance as "incomplete." The media coverage of this event was at least 10 times larger than at your standard regional combine, so those on hand could be forgiven if the whole thing seemed to be a publicity stunt. Silberman first gained notoriety on a national scale last month when she told the NFL Network that she could boot 60-yard field goals and was ready to take on that combine.
"I'm just really happy I had this amazing experience," Silberman concluded. "I might be the first woman trying out for the NFL, but I certainly hope I'm not the last."
Perhaps one day, the NFL will have a female kicker. Until then, this is as good a time as any to remind ourselves that once upon a time, the great Kathy Ireland had some game in that department (and yes, you should watch "Necessary Roughness" if you haven't before).
Who do you think will be the first NFL female kicker? Do you think Lauren Silberman could have made it to the cut if not for the injury?
Source: Doug Farrar, Yahoo Sports
Image: USA Today