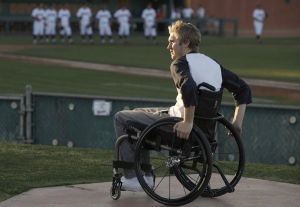 Former Arizona State outfielder Cory Hahn's journey following paralyzation suffered during his freshman season with the Sun Devils has added another touching layer. As noted by multiple outlets, the Arizona Diamondbacks drafted Hahn in the 34th round of the 2013 MLB draft on Saturday, 1,020th overall.
'Freak accident'
The former Sun Devil being drafted in the 34th round was not a coincidence. As noted by Dan Bickley of AZCentral, Hahn wore No. 34 during his short time with the Sun Devils.
In just his third game with the Sun Devils, Hahn reached first base during the first inning of a game against New Mexico. The coaching staff called for a double steal, and as Hahn slid headfirst into the bag, he collided with second baseman Kyle Stiner. The impact of the collision caused a freak accident, leaving Hahn with a broken neck. According to the Los Angeles Times' Bill Plaschke, the Arizona State outfielder became a C5 quadriplegic, meaning he was paralyzed from the chest down.
'Inspiring the uninspired'
It became quite clear that Hahn would not succumb to his fate. As noted in a profile from January by Fox Sports West's Rayshaun Haylock, Hahn went hard to work, putting the same vigor with which he once played the game into his recovery. He made small progresses, returning to Arizona State last year to pursue his business degree. Even without the ability to walk on the diamond to help his team, Hahn contributed another way—as an assistant coach.
Though the journey is still one of small progresses—Hahn is still unable to walk and his progress going forward is still up in the air—Arizona's decision to draft him is a big step. On Hahn's Twitter page, his tag line is "Inspiring the Uninspired." Having finally realized his dream of being a major league draftee, Hahn's dream to inspire continues to come true.
Were you inspired by Cory Hahn's story? Feel free to share your input on this topic!
Source: Tyler Conway, Bleacher Report
Image: Los Angeles Times