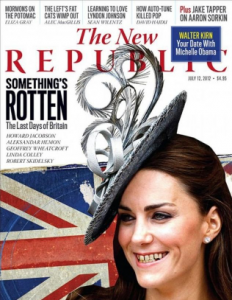 Kate Middleton is admired around the globe for her beauty and elegance, so Britons aren't taking kindly to the July 12, 2012 cover of the U.S.-based New Republic magazine that features their beloved Duchess with yellowed, decaying teeth.
The unflatteringly retouched photo superimposes the 30-year-old onto a frayed Union Jack along with the headline, "Something's Rotten. The Last Days of Britain." The special issue, published in the run up to the London Olympics, contains a number of articles on England's decline, including a critique of British soccer.
Reactions from across the pond have ranged from anger over Catherine's ugly image to disgust with Americans' stereotype of the English as all having brown, crooked teeth. A Mirror reader wrote: "Now how would Americans like it if our political magazines featured obese burger-munching Americans on its front cover? They'd be the first to complain."
However, not everyone is taking offense. "I prefer the photo shopped picture, it makes her look like a 'normal British person,'"
wrote another Mirror reader. "Remember us? We are the ones that really have teeth like that whilst our tax pays for the likes of her to have perfect teeth."
The Daily Mail reports that Middleton did have her teeth straightened and whitened by orthodontist Dr. Didier Fillion before her 2011 wedding to Prince William. Treatments can cost as much as $15,000. It's speculated that she wore hidden braces that closed a gap behind her two front teeth. The image isn't enough to turn off diehard Duchess fans, though. "It's satire, get over it! I for one think she still looks lovely with rotten teeth," wrote one reader of the  Mail.
So, what do you think of Kate Middleton's "makeover"? Is it too offensive, or can you easily shrug it off as satire?
Image: The Inquisitr