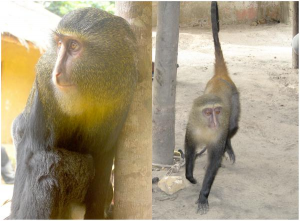 In a paper published Wednesday in the open-access journal Plos One,  scientists describe the new species they discovered called Cercopithecus Lomamiensis, known locally as the Lesula, whose home is deep in central DR Congo's Lomami forest basin. The scientists say it is only the second discovery of a monkey species in 28 years.
"We never expected to find a new species there," says John Hart, the lead scientist of the project. The team came across a strange looking monkey tethered to a post. It was the pet of Georgette, the daughter of the local school director. Her father said it was a Lesula, well-known to hunters in that part of the forest.
"Right away I saw that this was something different. It looked a bit like a monkey from much further east, but the coloring was so different and the range was so different," said Hart.
The Lesula had strikingly large, almost human like, eyes, a pink face and golden mane. Far to the east, across several large river systems, the Owl Face is aptly named. Its sunken eyes are set deep in a dark face, a white stripe running down from its brow to its mouth, like a line of chalk on a blackboard. Hart and his team needed science to prove their gut feeling.
The exhaustive study took three years. Christopher Gilbert, an anthropologist based at Hunter College in Manhattan, says while the Owl Face and Lesula had similar sized skulls, he says, the Lesula had significantly larger orbits and several other small, but statistically significant, differences in the hard anatomy of the skull.
The anatomical studies are backed up by genetics. Scientists at New York University and Florida Atlantic University were able trace an ancient common ancestor. Scientists believe the monkeys evolved separately after a series of rivers separated their habitats. Hart hopes that the announcement will bring a renewed effort to save central Africa's pristine forests.
Do you find the new monkey species Lesula cute and fascinating? Share your thoughts on how Africa's forests can be saved from loggers and hunters.
Source: CNN
Image: Science Daily