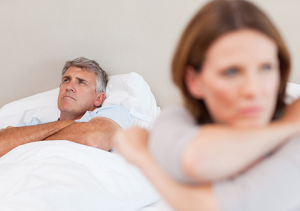 A new study published today in the Journal of Sexual Medicine suggests that for some men, the sexual side effects of Propecia may last for months to years, even after they stop taking the drug.
Researchers from George Washington University interviewed 54 men under age 40 who reported side effects for three months or more after taking Propecia, also called finasteride, to treat their hair loss. Some of the men took the drug for a few weeks, others took it for years, but all of them reported side effects such as erectile dysfunction, decreased sexual drive, problems with orgasms, shrinking and painful genitals, even some neurological problems, such as depression, anxiety and mental fogginess.
"Our findings make me suspicious that this drug may have done permanent damage to these men," said Dr. Michael Irwig, the author of the study. "The chances that they will improve? I think it's lower and lower the longer they have these side effects."
Finasteride works by blocking the conversion of testosterone into a more potent form, called DHT, which contributes to hair loss. It was originally developed in 1992 by drug giant Merck as a treatment for enlarged prostates and sold as the drug Proscar. Propecia was approved by the U.S. Food and Drug Administration in 1997, and at that time Merck noted that a few men reported sexual side effects during clinical trials of the drug. On its website, the agency said those side effects were resolved when patients stopped taking the drug.
In 2011, the FDA mandated a label change for Propecia and Proscar, warning that some patients reported erectile dysfunction that lasted after patients stopped taking it; in April, the agency updated the label to include reports of libido, ejaculation and orgasm disorders. In a statement, Merck said no evidence has proved a causal relationship between Propecia and long-lasting sexual dysfunction. But researchers say many physicians who prescribe finasteride are likely not aware that the side effects of the drug may haunt patients for years.
Would you risk taking finasteride as treatment for hair loss? Or would you just consider alternatives?
Image: Med Scape