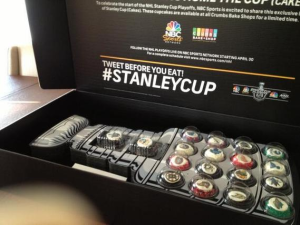 The Stanley Cup playoffs have been delicious for Michael J. Fox. Busted Coverage spotted the actor's clever manner of trolling each and every NHL team that has fallen in the postseason: He eats its cupcake.
'Edible swag'
Apparently, the actor, who is set to premiere his new show on NBC in the fall, received a box of NHL-themed cupcakes from Crumbs Bake Shop in New York City. He tweeted:
"NHL sent me some edible swag…a giant box of playoff team @crumbsbakeshop cupcakes. #StanleyCup. Thanks!"
'Edible jinx'
Sure, we may refer to another team's demise as a tasty treat, but we never thought to take that to the next delicious level. Not only does Fox enjoy teams' losses one decadent treat at a time, but he also provides his own hilarious quip for each one.
Busted Coverage reminds us Fox is a huge Boston Bruins fan, so we assume he has already tossed that one in the garbage. Any self-respecting sports fan wouldn't want to anger the hockey gods by actually having that edible jinx in the house.
Fox has mastered this trolling guff, because there is nothing worse than knowing your team lost and that someone is out there enjoying the moment by chowing down on a sweet dessert because of it.
Do you like Michael J. Fox's way of trolling these NHL teams? Which team are you rooting for?
Source: Gabe Zaldivar, Bleacher Report
Image: Tweet Wood