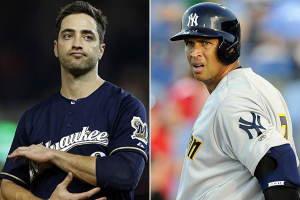 According to T.J. Quinn and Mike Fish of ESPN, some players are likely to be suspended for their connection to the Biogenesis performance-enhancing drugs scandal. Alex Rodriguez and Ryan Braun headline a large list of players that are reportedly expected to face suspensions from Major League Baseball shortly after the 2013 All-Star break.
'Incriminating documents'
Biogenesis founder Tony Bosch has fully cooperated with the MLB investigation, reportedly handing over incriminating documents that link the players to his PED clinic, according to Quinn and Fish. Per ESPN's report, Braun refused to answer any questions about the scandal in a meeting with MLB officials on June 29.
Both Braun and Rodriguez could potentially face 100-game suspensions—the penalty doled out to players for a second offense. The argument for the longer suspensions, per ESPN's report, would be that the pair of sluggers committed multiple offenses by receiving the drugs and then lying about it.
'Scandal'
Rodriguez's use of PEDs between 2001 and 2003 will also be a topic of conversation during Friday's meeting, per the New York Daily News. The report also states that Rodriguez's $100 million deal could be in jeopardy if the third baseman is suspended. Should A-Rod opt for the physically unable to perform list, he would be guaranteed the full amount of his contract upon retirement.
Sources close to Rodriguez believe he has formulated a defense that will exonerate him from the scandal. The three-time American League MVP is currently playing for the Yankees' Single-A affiliate.
Who else do you think are involved in this Biogenesis scandal? Do you think the MLB will go ahead and suspend the said players?
Source: Alex Ballentine | Bleacher Report
Image: News Day