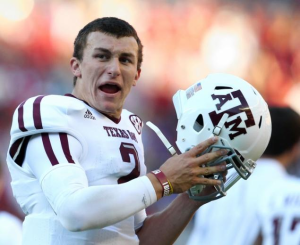 Texas A&M quarterback Johnny Manziel is the reigning Heisman Trophy winner but he couldn't make it through the 2013 Manning Passing Academy in Thibodaux, La., as he was reportedly sent home due to illness, according to Chris Mortensen of ESPN.com.
'Feeling ill'
Many of the best quarterbacks that college football has to offer were in Thibodaux for the camp, run by Denver Broncos quarterback Peyton Manning, New York Giants quarterback Eli Manning and their father, Archie Manning. Manziel, however, didn't complete the camp.
Manziel reportedly missed some assigned meetings and practice sessions as a college coach and counselor. According to Mortensen, the Manning Academy released a statement explaining the situation:
Johnny Manziel did participate in some activities in the 2013 Manning Passing Academy as a college counselor/coach. After missing and being late for practice assignments, Johnny explained that he had been feeling ill. Consequently, we agreed that it was in everyone's best interest for him to go home a day early.
'Negative stories'
This statement comes on the heels of rumors that Manziel was actually sent home for staying out late the night before and showing up tardy to practice sessions. According to Northwestern State Demons play-by-play announcer and CBS Sports personality Patrick Netherton, the rumors appear to have some credibility, although Manning Academy officials have since denied them.
There is no question that Manziel is one of the most talented college football players in recent memory, but his reputation has taken serious hits as negative stories have surfaced.
Do you think Johnny Manziel was sent home early from the Manning Camp because of illness? Or was it something else?
Source: Mike Chiari | Bleacher Report
Image: NY Daily News