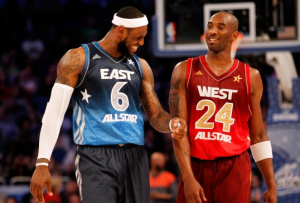 On Thursday, the NBA announced its selections for the 2012-13 All-NBA teams.
'First team'
The first team includes LeBron James of the Miami Heat, Tim Duncan of the San Antonio Spurs, Kevin Durant of the Oklahoma City Thunder, Kobe Bryant of the Los Angeles Lakers and Chris Paul of the Los Angeles Clippers.
The second team includes Carmelo Anthony of the New York Knicks, Blake Griffin of the Clippers, Marc Gasol of the Memphis Grizzlies, Tony Parker of the Spurs and Russell Westbrook of the Thunder.
Finally, the third team is comprised of David Lee of the Golden State Warriors, Paul George of the Indiana Pacers, Dwight Howard of the Lakers, Dwyane Wade of the Heat and James Harden of the Houston Rockets.
'Phenomenal'
According to the Lakers' Twitter account, Bryant's 11th selection to the first team ties him with Karl Malone for the most all time. Bryant was excellent again in 2012-13, averaging 27.3 points while moving into fourth place on the NBA's all-time scoring list.
Via USA Today, James led all players with 119 votes for first-team selection, while Durant was second with 102. James was once again phenomenal this season and was nearly the league's consensus MVP (his fourth time winning the award), leading the Heat in points (26.8), assists (7.3) and rebounds (8.0) per game.
Durant wasn't too shabby himself, averaging 28.1 points per contest.
Which team do you think is the best team among the three? And which team are you rooting for?
Source: Timothy Rapp, Bleacher Report
Image: Sports Illustrated