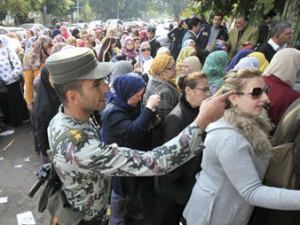 Egyptians reveled in their chance to vote in a post-Hosni Mubarak era during a second day of parliamentary elections, but nightfall brought new clashes in Cairo's Tahrir Square that stretched into Wednesday. At least 88 people had been hurt, 28 of them seriously enough to go to a hospital, a Health Ministry official, Dr. Adel Adawi, told the state-run newspaper Al-Ahram.
Witnesses said Tuesday's melee began with fights between vendors and protesters, who began throwing rocks and attacking their kiosks with sticks. The protesters complained some vendors were giving demonstrations a bad image by selling marijuana, said Mina Hagras, one of the demonstrators who have been camped in the square. But vendors said not all of them are the same.
State TV reported that 25 people were injured in election-related violence. But many voters expressed jubilation at their chance to help build a new Egypt after the popular revolt that toppled Mubarak. The stakes are high for Egyptian women, who worry that if Islamists gain a majority in the lower house of Parliament, their hopes for a more liberal life will be quashed.
Ali Al Dali, an official monitor for the Egyptian Association of Human Rights, said about 45% of eligible voters in the city had cast ballots. The last of the three stages of lower house elections is set to take place in January. Upper house elections will run between January and March.
Presidential elections will be held by June, according to the Supreme Council of the Armed Forces, Egypt's acting ruling body. Military leaders have said they will hand over power to a new government when one is elected, but many Egyptians say they don't trust the council and fear the military will cling to power.