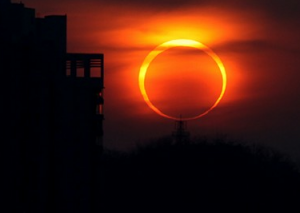 We Earthlings have already been treated to nice meteor showers as well as a magnificent supermoon, and this weekend brings an annular solar eclipse.
That's not even the best treat: Venus will be ambling between Earth and the sun in a rare (though non-earth-shattering) planetary alignment. Sure, the event might look like a black pimple floating across the face of the sun, but this celestial rarity once guided adventurous astronomers in their quest to determine the size of the solar system and yielded the first-ever global scientific collaboration. Don't blink—Venus doesn't cross our path again until December 2117.
A solar eclipse happens this Sunday, except for the Eastern seaboard (sorry). It's an "annular" eclipse rather than a total one, which means the sun's edges peek out from behind the moon, creating the illusion of a ring of fire. (The word "annular" comes from the Latin word for ring.) The lower 48 states will have to wait until Aug. 17, 2017, for a total shutout. This weekend's eclipse
begins at dawn in southern China. It then sweeps across the Pacific Ocean, passing south of Alaska, and makes landfall on the Pacific coast near the California-Oregon border. It ends near Lubbock, Texas, at sunset. Partial phases of this eclipse will be visible over most of western North America. (May 9, Space.com)
Those of you in the annular path should head to higher ground (avoiding clouds and light pollution) and put solar filters either over your eyes or on your equipment. Thirty-three national parks will be hosting solar gatherings. Lucky Coloradans get to hang out for free at the University of Colorado at Boulder's Folsom stadium, starting 5:30 p.m. local time, thanks to the Fiske Planetarium.
Designer sunglasses don't cut it. At this late date, check telescope stores or call your local planetarium. No. 14 welder's glass, carried in specialty welding stores, works too.
Will you be watching for the annular eclipse this weekend? Tell us of your previous sightings!
Source: Yahoo News
Image: ABC News