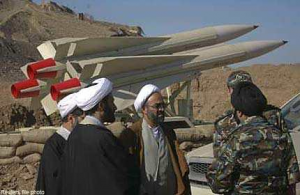 Iran will target any country used as a launchpad for attacks against its soil, the deputy Revolutionary Guards commander said, expanding Tehran's range of threats in an increasingly volatile stand-off with world powers over its nuclear ambitions.
Although broadened and sharpened financial sanctions have begun to inflict serious economic pain in Iran, its oil minister asserted Saturday it would make no nuclear retreat even if its crude oil exports ground to a halt. Iran says its nuclear program is for civilian energy purposes. But its recent shift of uranium enrichment to a mountain bunker possibly impervious to conventional bombing, and refusal to negotiate peaceful guarantees for the program or open up to U.N. nuclear inspectors, have thickened an atmosphere of brewing confrontation, raising fears for Gulf oil supplies.
"Any spot used by the enemy for hostile operations against Iran will be subjected to retaliatory aggression by our armed forces," Hossein Salami, deputy head of the elite Revolutionary Guards, told the semi-official Fars news agency Sunday.
The six, U.S.-allied Arab states in the Gulf Cooperation Council, situated on the other side of the vital oil exporting waterway from Iran, have said they would not allow their territories to be used for attacks on the Islamic Republic. But analysts say that if Iran retaliated for an attack launched from outside the region by targeting U.S. facilities in Gulf Arab states, Washington might pressure the host nations to permit those bases to hit back, arguing they should have the right to defend themselves.
Source: Yahoo News
Image: Asia One