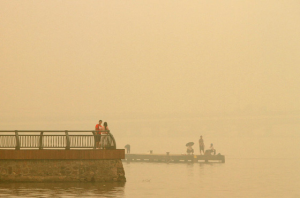 Young and old residents of the Chinese metropolis of Wuhan were advised to stay indoors on Monday after a thick haze blanketed the city of nine million people, official media said.
Described by residents as opaque with yellowish and greenish tinges, the fug descended suddenly in the morning, prompting people to rush to put on face masks, witnesses told AFP. The official Xinhua news agency quoted the environmental protection department of Hubei province saying in a statement: "Children, the elderly and people with heart or respiratory diseases are advised to stay indoors."
Xinhua said straw burning was the cause and denied there had been any industrial accidents in or near Wuhan, after Internet rumours suggested there had been an explosion at a chemical complex northeast of the city. France's consulate-general in the central city advised residents to stay at home, close their windows and limit the use of air-conditioning. Xinhua described the haze as grey-yellow in colour and said it was seen in seven cities in Hubei province, including Wuhan.
Air pollution is increasingly acute in major Chinese cities and authorities are frequently accused of underestimating the severity of the problem in urban areas, especially in Beijing. China's environment suffers from industrial pollution, increasing traffic and lax protection measures. Official air-quality statistics are sometimes at odds with non-government measurements, and are often viewed with distrust.
What could have caused this yellow haze to descend upon Wuhan? Do you think it poses a significant health threat to Chinese citizens? Tell us what you think!
Image: China Buzz