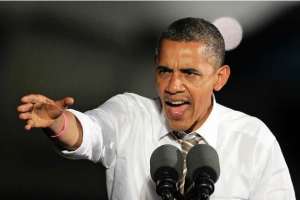 Racial attitudes have not improved in the four years since the United States elected its first black president, an Associated Press poll finds, as a slight majority of Americans now express prejudice toward blacks whether they recognize those feelings or not.
'Explicit anti-black attitudes'
Those views could cost President Barack Obama votes as he tries for re-election, the survey found, though the effects are mitigated by some people's more favorable views of blacks. Racial prejudice has increased slightly since 2008 whether those feelings were measured using questions that explicitly asked respondents about racist attitudes, or through an experimental test that measured implicit views toward race without asking questions about that topic directly.
In all, 51 percent of Americans now express explicit anti-black attitudes, compared with 48 percent in a similar 2008 survey. When measured by an implicit racial attitudes test, the number of Americans with anti-black sentiments jumped to 56 percent, up from 49 percent during the last presidential election. In both tests, the share of Americans expressing pro-black attitudes fell.
'Growing polarization'
Most Americans expressed anti-Hispanic sentiments, too. In an AP survey done in 2011, 52 percent of non-Hispanic whites expressed anti-Hispanic attitudes. That figure rose to 57 percent in the implicit test. The survey on Hispanics had no past data for comparison. The AP surveys were conducted with researchers from Stanford University, the University of Michigan and NORC at the University of Chicago. Experts on race said they were not surprised by the findings.
"Part of it is growing polarization within American society," said Fredrick Harris, director of the Institute for Research in African-American Studies at Columbia University. "The last Democrat in the White House said we had to have a national discussion about race. There's been total silence around issues of race with this president. But, as you see, whether there is silence, or an elevation of the discussion of race, you still have polarization. It will take more generations, I suspect, before we eliminate these deep feelings."
Were you surprised with the result of this poll or not? Feel free to share your ideas regarding this issue!
Image: NY Daily News