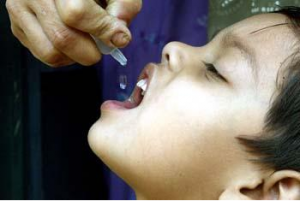 A ban on polio vaccinations imposed by the Taliban could affect about 280,000 children living in tribal areas of northwest Pakistan, according to estimates from the World Health Organization.
Last month, local Taliban militants prohibited polio vaccines over the United States' use of drone strikes in the region. When a three-day nationwide effort to administer polio vaccines began this week, health workers and volunteers weren't able to immunize children in North and South Waziristan. Under this security situation, they "obviously cannot operate," said Mazhar Nisar, the health education adviser in the Pakistani prime minister's polio program.
Throughout the rest of the country, vaccination efforts continued as 180,000 health workers and volunteers fanned throughout communities trying to immunize 34 million children, under the age of 5.
The commander, Hafiz Gul Bahadur said that the drone strikes "are worse than polio," and consulted with other Taliban leaders regarding the decision, according to the statement. Drone strikes are widely unpopular, as the Pakistani government has pressed the U.S. administration to stop the attacks. 20 dead in drone attack in Pakistan
Pakistan remains one of the three countries in the world grappling with polio. The country has had 22 reported cases this year. The other two countries are Afghanistan with 11 cases and Nigeria with 54. Polio is highly contagious and can cause paralysis, breathing problems, deformities and death. There is no cure for polio, so the focus lies on vaccines to prevent the disease. The vaccine is administered orally, and in multiple doses to achieve full immunity. Pakistan's tribal regions are areas where polio is known to be active, according to disease data. The WHO, Center for Disease Control and Prevention, UNICEF and Rotary International have a joint polio eradication campaign.
Should health workers just withdraw from their anti-polio campaign where the Taliban is concerned? Or should the U.S. relent from their drone strikes?
Source: CNN
Image: India Morning News