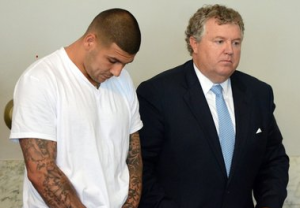 According to court documents released on Tuesday regarding the Aaron Hernandez murder case, a man told police that Hernandez admitted to shooting Odin Lloyd.
'Another man'
Via The Associated Press:
The documents say Hernandez associate Carlos Ortiz told Massachusetts investigators that another man, Ernest Wallace, said Hernandez admitted shooting semi-pro football player Odin Lloyd in an industrial park near Hernandez's home in North Attleborough.
'Heard gunshots'
The documents containing the information were made public when they were filed to the police department in Miramar, Fla., for a search of Ernest Wallace's home.
Prosecutors allege that Hernandez, Wallace and a third man drove with Lloyd to the industrial park in the early morning hours of Monday, June 17. Ortiz told investigators Hernandez, Wallace and Lloyd got out of the car, he heard gunshots, then only Hernandez and Wallace returned, according to the AP.
What do you think is the real involvement of Aaron Hernandez in the alleged murder of Odin Lloyd? How do you think will this case end? Feel free to share your thoughts and speculations with us. Let your voice be heard via the comment box below!
Source: SB Nation NFL News
Image: Philly