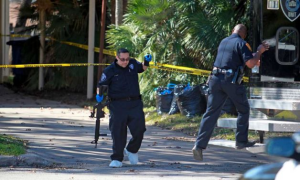 02Two men suspected of attempting to invade a home in North Carolina Friday died after a gunfight with the homeowner.
'Found dead'
Fayetteville Police tell WTVD both robbery suspects fled the home after the exchange of gunfire. One of the suspects, 25-year-old Dominik Council, was found dead on the side of the road nearly two hours after the incident.
The other suspect, 20-year-old Xavier White, was found wounded and transported to an area hospital, where he later died, according to the station.
'Attempted home invasion'
Police said the homeowner, who was not identified, was injured during the gunfight. Details on the individual's condition were not immediately available.
Police on Saturday identified 24-year-old Lamyer Campbell and 24-year-old Derek Hair as suspects in the attempted home invasion.
How do you ensure the safety of your family in the middle of an attempted home invasion? In a case such as this, what is your position regarding tighter gun control laws? Feel free to comment on this case and to share your opinion regarding controversial gun control propositions. Broadcast your thoughts to the world via the comment box below!
Source: Fox News
Image: My San Antonio