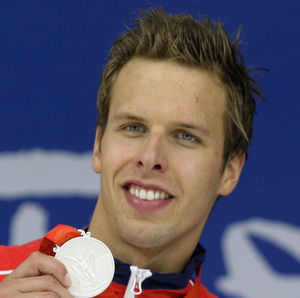 Norwegian swimming champion Alexander Dale Oen has died in the US, aged 26, Norway's swimming federation says. He was found collapsed in a shower late on Monday after training in Flagstaff, Arizona, Norwegian media say. Officials said he had suffered a cardiac arrest. Emergency services arrived at the scene within minutes but were unable to revive him.
Dale Oen won gold in the 100m breaststroke at the World Championships in Shanghai in July 2011. His triumph came just days after the attack in Norway by Anders Behring Breivik which killed 77 people.
Per Rune Eknes told national broadcaster NRK that it was the blackest day in the history of Norwegian swimming. Norway's Prime Minister Jens Stoltenberg expressed his sorrow at the death of the swimmer.
Dale Oen's last tweet on Monday, as he was coming to the end of training in the US, said: "2 days left of our camp up here in Flagstaff, then it's back to the most beautiful city in Norway #Bergen".
Dale Oen was born in Bergen, Norway's second largest city, and began swimming at the age of four. He got his international breakthrough in 2005 when he came seventh in the 100m breaststroke during the World Aquatics Championships in Montreal, Canada. He won silver at the 2008 Olympics in Beijing, Norway's first Olympic swimming medal, and was considered a strong hope for this summer's London Games.
Could the champion swimmer's death have a large bearing on the Olympics? Share your thoughts with us!
Source: BBC News
Image: Tributes