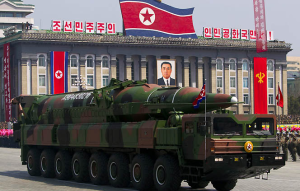 North Korea has begun moving its mid-range missile launchers, possibly indicating a looming test as tensions are already boiling on the peninsula, U.S. officials told Fox News.
'Testing or drills'
Earlier Thursday, South Korea said North Korea moved a missile with "considerable range" to its east coast after an unnamed spokesman for the North Korean army warned the U.S. Wednesday that its military has been cleared to wage an attack using "smaller, lighter and diversified nuclear" weapons.
South Korean Defense Minister Kim Kwan-jin dismissed reports in the Japanese and South Korean media that the missile could be a KN-08, which is believed to be a long-range missile that if operable could hit the United States. Kim told lawmakers at a hearing that the missile's range is considerable but not far enough to hit the U.S. mainland. He said he did not know the reasons behind the missile movement, saying it "could be for testing or drills."
'Suicidal war'
The range he described could refer to a mobile North Korean missile known as the Musudan, which has a range of 1,800 miles. That would make Japan and South Korea potential targets, but little is known about the missile's accuracy.
North Korea has railed for weeks against joint U.S. and South Korean military exercises taking place in South Korea and has expressed anger over tightened sanctions for a February nuclear test. U.S. National Security Council spokesperson Caitlin Hayden has called North Korea's threats "unhelpful and unconstructive." Russia said Thursday that North Korea's disregard for the U.N. sanctions is hurting the chances of resuming stalled six-party nuclear talks, Reuters reports.
Despite North Korea's rhetoric, analysts say they do not expect a nuclear attack, which knows the move could trigger a destructive, suicidal war that no one in the region wants.
Do you think North Korea will carry out a missile attack against the U.S. or South Korea? What can be done to stop a war from erupting?
Source: Fox News
Image: Belle News