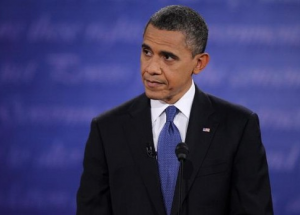 The AARP, which put itself in the middle of the health care debate by endorsing ObamaCare, now is telling President Obama to keep the group out of his political talking points.
The nation's leading senior advocacy organization objected after the president during Wednesday's debate twice mentioned the AARP while defending his health care plan and attacking Mitt Romney's plans for Medicare. The AARP posted a blog saying that while the group is "grateful" the candidates had a "robust" debate on health care, the organization is not aligned with either candidate.
"While we respect the rights of each campaign to make its case to voters, AARP has never consented to the use of its name by any candidate or political campaign. AARP is a nonpartisan organization and we do not endorse political candidates nor coordinate with any candidate or political party," the group said.
Obama invoked the AARP during the Denver debate because the group had endorsed his health care overhaul earlier in his term. He used that endorsement to challenge Romney's claims that the law's cuts to Medicare would weaken the health care system: "And this is not my own — only my opinion. AARP thinks that the savings that we obtained from Medicare bolster the system, lengthen the Medicare trust fund by eight years. Benefits were not affected at all," Obama said.
He went on to say that Romney's plan, which he describes as a "voucher system," would put seniors "at the mercy" of insurance companies. "And this is the reason why AARP has said that your plan would weaken Medicare substantially. And that's why they were supportive of the approach that we took," Obama said.
Was invoking AARP in the debate an unwise move for Obama? Do you think AARP is really a non-partisan organization? Feel free to share your thoughts on the upcoming election!
Source: Fox News
Image: Examiner