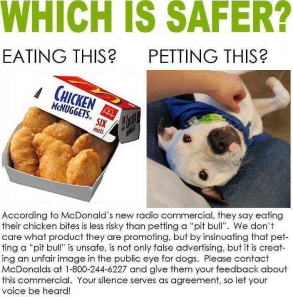 McDonald's has apologized and pulled an ad that came back to bite it. The ad said eating a Chicken McBite was less risky than petting a stray pit bull, shaving your head, naming your son Sue or giving friends your Facebook password. It enraged pit bull owners and their supporters.
The radio ad for Chicken McBites only ran for a few days in the Kansas City area before the complaints started. The campaign against the ad circulated on social media sites, and the apology was delivered the same way. People who called a well-publicized toll-free number got a recorded apology.
"The ad was insensitive in its mention of pit bulls. We apologize. As soon as we learned of it, we tracked the source and had the local markets pull the ad immediately. We'll do a better job next time. It's never our intent to offend anyone with how we communicate news about McDonald's," Ashlee Yingling, spokesman for McDonald's Corp., said Monday, quoting from the apology.
"I found it extremely offensive and reckless," said Rachele Lizarraga of Sacramento. "Why would you try to promote the safety of food?"
Lizarraga, who owns a pet-sitting business and is social media coordinator for Chako Pit Bull Rescue, started a Facebook page called "Pit Bulls Against McDonald's," launched an online petition calling for an end to the ad and started one of many Twitter threads.
The campaign against the ad built swiftly and fiercely Friday. Then the ad disappeared, except on YouTube and online.
Source: Yahoo News
Image: News Gather