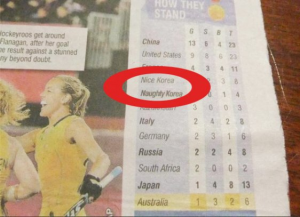 An Australian daily newspaper has rebranded North and South Korea as "Naughty Korea" and "Nice Korea" in their standing medal count, drawing split social media responses with some on Twitter lauding the idea as comic genius and others insisting that it is tantamount to racism.
As noted by the Trending Now blog on the UK edition of MSN.com, the Australian free daily, The Mx, also referred to as the Brisbane Metro, published a medal count that included North Korea as "Naughty Korea" and South Korea as "Nice Korea" in Wednesday's edition. At the time, the two nations were right next to each other in the medal count, making the contrast between their names visible and notable.
A day later, an image of that medal count began circulating around the Internet and caught fire on Twitter, where everyone seemed to have an opinion on whether it was a brilliantly funny idea or a potential diplomatic disaster.
There's no word on whether the paper will continue to call the nations by their tongue-in-cheek moniker or return to their proper names, or whether North Korea was actually offended by the name itself. So far, The Mx has remained quiet, so we may all be in for at least a few more editions of "Naughty" and "Nice" Korea.
So, what do you think — Does rebranding the Koreas as "Naughty" and "Nice" brew a potential diplomatic storm? Is is really tantamount to racism or is it just brilliantly funny? Feel free to share your opinions with us through the comment box below!
Image: Business Insider