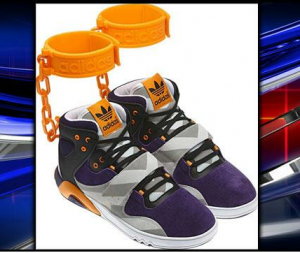 A new Adidas sneaker has sparked outrage, with sneaker fans accusing the brand of promoting racism. The Roundhouse Mid "Handcuff" shoe, created by controversial New York designer Jeremy Scott, features a plastic orange shackle that attaches to each ankle.
The $350 sneakers hit stores in August, but Adidas promoted them on their official Facebook page on June 14 with this quote: "Tighten up your style with the JS Roundhouse Mids, dropping in August. Got a sneaker game so hot you lock your kicks to your ankles?" At press time the "Handcuff" sneaker image has over 36,000 Facebook likes, but many of the comments are angry and disapproving.
"Please tell me this is FAKE. I am not hearing these Adidas Amistad Originals," one woman commented on Facebook, referencing the ship famous for an African slave revolt in 1839. One man is prepared to boycott the brand out of respect to his African heritage. But the reactions weren't all negative. One guy viewed the handcuff as a creative and lighthearted design component. "I just see this as a shoe so fly you better chain em to ya!" Many said they weren't offended by the shoe, but still felt they were ugly.
For those unfamiliar with Jeremy Scott, his designs for his own collection and his Adidas partnership are typically surprising and unusual. Madonna, Kanye West, Beyoncé, and Rihanna are all avid Jeremy Scott fans. Some may dislike his outrageous designs, but the new "Handcuffs" model is the first one to ever be dubbed offensive.
Yahoo! Shine reached out to Adidas for comment, and received this response. "The JS Roundhouse Mid is part of the Fall/Winter 2012 design collaboration between Adidas Originals and Jeremy Scott. The design of the JS Roundhouse Mid is nothing more than the designer Jeremy Scott's outrageous and unique take on fashion… Any suggestion that this is linked to slavery is untruthful." 
What do you think of the JS Roundhouse Mid? Do they really spell 'racism' or is Adidas' statement enough to justify the style?
Source: Yahoo News
Image: 10 News