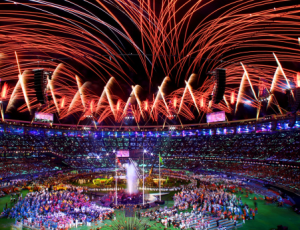 London's 2012 Paralympics has ended with a fiery finale and official handover to 2016 host, Rio de Janeiro. The show, described as a "festival of flame" honouring Britain's ancient traditions and festivals, brought 11 days of sport to a close.
UK band Coldplay led the show, which started at 20:30 BST, with a live set reflecting the four seasons. The event ended what organisers say has been "the greatest Paralympic Games ever". Unlike the other Games ceremonies, the 4,200 athletes were seated around the main arena, putting them at the heart of the action. Declaring the 2012 Paralympics closed, International Paralympic Committee president, Sir Philip Craven, said: "These Games have changed us all forever."
China finished top of the Paralympic medals table, with 231 medals – 95 gold. Great Britain cemented third place behind Russia, with a tally of 120, including 34 golds.
As the ceremony drew to a close, Paralympians Ellie Simmonds and Jonnie Peacock helped to put out the Paralympic flame, which was shared out across the stadium symbolising "the eternal nature of the flame living among us all". Each participating country will take home one of the 200 copper petals that made up the Paralympic cauldron.
"The idea is the coming together as one," said artistic director Kim Gavin behind the Festival of Flame. "We are known as a nation for having the most festivals, it is something that we do – with 600 festivals a year. We pay tribute to all the human spirit and achievement through this wonderful sport of the last two weeks."
Have you seen the closing ceremony of this year's London Paralympics? Tell us how the players have inspired you!
Source: BBC News
Image:  CBS News