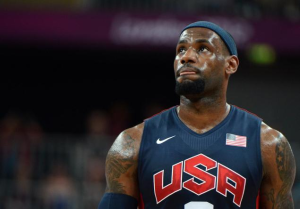 Two Olympic gold medals and a bronze are likely going to be enough for LeBron James, who is reportedly finished with Team USA and his international basketball career.
'Doubtful to participate'
The news comes from Yahoo! Sports' Marc J. Spears:
James, 28, will not play for USA Basketball during the 2013 world championships in Spain and is doubtful to participate in the 2016 Olympicsin Brazil, a source close to the Miami Heat forward told Yahoo! Sports on Wednesday. USA Basketball executive director Jerry Colangelo also confirmed to Yahoo! Sports he doesn't expect James to play next summer—and doesn't plan to ask him.
James has already accomplished plenty with Team USA, winning two Olympic gold medals (2008, 2012), one Olympic bronze (2004), and a bronze medal at the FIBA World Championships (2006).
'Relax and recuperate'
Not only that, but he's going to be 29 years old by next summer's FIBA Basketball World Cup in Spain and 31 before the Rio Olympics in 2016. That doesn't exactly make LeBron ancient, but when you consider the mileage he has already put on his body, it's not surprising that he wants a little more free time during the NBA offseason.
As Spears notes, James' most recent summer included trips across the world, commercial shoots, prep basketball camps and wedding planning. LeBron is a busy man, and as he gets older, he will need some time to relax and recuperate.
Do you think LeBron James would be willing to come back after a couple of years if Team USA requested him to? Will his presence or absence make a lot of difference?
Source: Tim Keeney | Bleacher Report
Image: NY Daily News