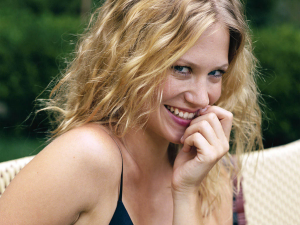 Most mammals eat their own placenta after giving birth and according to "Mad Men's" January Jones, more women should try ingesting their offspring's afterbirth as well.
Speaking at a press junket before the show's season premiere, the actress told People magazine that she pops a dehydrated placenta capsule when she's feeling tired or blue. "Its not witch-crafty or anything, I suggest it to all moms!" Jones enthused. Since the 34 year-old single mom was able to return to the set about seven weeks after her son Xander was born, her controversial elixir may be working.
There is little scientific evidence to show any benefits to eating placenta, but advocates say that it helps increase milk flow and ease post-partum depression. Speaking with the BBC, obstetrician Maggie Blott explained, "Animals eat their placenta to get nutrition–but when people are already well-nourished, there is no benefit, there is no reason to do it."
Still, there is a growing trend of parents asking to take home the placenta and a coterie of professionals who will prepare it. They believe that consuming it has a positive effect on the mother's immune system and mood. Some moms do eat placenta in its natural state. The Internet offers a host of recipes such as roast placenta, placenta spaghetti, and placenta pizza.
Somehow we don't think Jones's frosty character Betty Draper Francis would approve. Unless perhaps, it was shaken into a stiff gimlet cocktail.
Source: Yahoo News
Image: Movies Pad