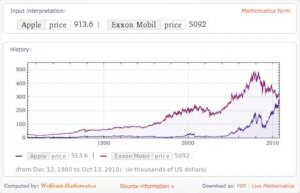 Apple nudged out oil giant Exxon Mobil on Wednesday to become the most valuable publicly-traded company in the world.
The technology company's stock rose 6.3% to end at $446.66 a share, one day after Apple reported the best quarterly results in history for a tech company. That spike pushed the company's market value to $419 billion. At that level, Apple has surpassed the perennial champ, Exxon, which has a market value of $418 billion. Exxon's stock edged up 0.5% to $87.22 a share on Wednesday.
It remains to be seen how long Apple can maintain the title. Apple briefly surpassed Exxon for the first time last August, but the oil giant regained the top spot by the end of that day. Apple's stellar quarter included a 73% jump in sales to $46.3 billion, a tech industry record reports. The company said its fiscal first-quarter profit more than doubled from a year earlier, rising to $13 billion, or $13.87 per share.

Whorush:
6 sites by this AdSense ID
Apple's results helped boost shares of companies that make components for its products. Chipmakers including Broadcom, Qualcomm, TriQuint, ARM Holdings, Cirrus Logic and Skyworks Solutions all surged. Nuance Communications, one of the companies responsible for Apple's voice recognition software Siri, gained 3%. Even Zagg, a maker of mobile device accessories, rose 4%.
Apple's growth is a stunning achievement for a 35-year old company that had a market cap of just $10 billion a decade ago. The company's turnaround began with the launch of the iPod, and growth really skyrocketed after the iPhone's release in 2007.
Source: CNN
Image: The Guardian