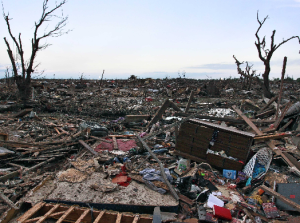 A search-and-rescue effort to find survivors of a monster tornado that pulverized a vast swath of the suburbs of Oklahoma City shifted Tuesday to one of recovery, officials said.
'Strongest category'
No new survivors or bodies have been found since the early hours after the tornado carved a trail 17 miles long on Monday afternoon. Earlier reports of at least 51 deaths were erroneous, said Amy Elliot, chief administrative officer for the Oklahoma Office of the Chief Medical Examiner. In the chaotic aftermath of the tornado, Elliot said it appeared some of the dead were counted twice.
Damage assessments conducted Tuesday showed the tornado packed winds, at times, between 200 and 210 miles per hour, making it an EF5 — the strongest category of tornadoes measured, the National Weather Service said Tuesday.
'Twisted and unfamiliar landscape'
Teams are still evaluating the destruction, and the rating released Tuesday is preliminary. So far, they've found that the tornado's width spanned 1.3 miles — the length of more than 22 football fields lined up end-to-end. Given its breadth and power, it ranks among some of the strongest storms ever to strike the United States, CNN senior meteorologist Dave Hennen said.
Hardest hit was Moore, Oklahoma — a suburban town of about 56,000 and the site of eerily similar twisters in 1999 and again four years later. The devastation was so complete, the mayor said city officials were racing to print new street signs to help guide rescuers and residents through a suddenly twisted and unfamiliar landscape.
Rescue crews were expected to complete a search for victims by late Tuesday, Moore Fire Chief Gary Bird told CNN. More than 230 people were injured, according to authorities.
Have you ever been a victim of a calamity like this? Tell us how you survived through your ordeal!
Source: Chelsea J. Carter. Brian Todd and Michael Pearson, CNN
Image: Business Insider