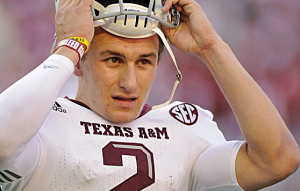 The NCAA has opened up an investigation into whether Texas A&M quarterback Johnny Manziel has violated its amateurism rules after the Heisman Trophy winner was reportedly paid for signing memorabilia in January.
'Could be ruled ineligible'
According to a report from ESPN's Darren Rovell and Justine Gubar, Manziel was paid a "five-figure flat fee" to sign hundreds of items during a session prior to this year's BCS National Championship Game. Manziel, whose Texas A&M squad won the Cotton Bowl over Oklahoma 41-13, was in Miami for the game as a spectator. ESPN is also reporting that many of the items Manziel signed were at the behest of autograph broker Drew Tieman.
If Manziel accepted money or gifts, both he and the Aggies could face punishment. If found in violation of NCAA rules, Manziel could be ruled ineligible for the 2013 season.
'Heisman'
ESPN's report claims Tieman has since been contacted by NCAA officials regarding the case. James Garland, the NCAA's assistant director of enforcement, is investigating whether some items listed on eBay were linked to that session.
Manziel burst onto the scene last year, leading the Aggies to one of their finest seasons in school history. He passed for 3,706 yards and 26 touchdowns against nine interceptions, adding 1,410 yards and 21 touchdowns on the ground. His all-around individual effort helped push Texas A&M to an 11-2 record, and Manziel became the first freshman in NCAA history to win the Heisman.
What do you think will be the result of the NCAA investigation? Should Johnny Manziel be sanctioned for this?
Source: Tyler Conway | Bleacher Report
Image: CBS Sports