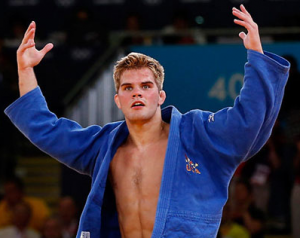 American judoka Nick Delpopolo has been expelled from the Olympics for testing positive for tetrahydrocannabinol, or as it's more commonly known, THC. It's the chemical found in marijuana and hash.
According to a statement released by the USOC, Delpopolo is embarrassed and blamed the positive test on an "inadvertent consumption of food that I did not realize had been baked with marijuana." That's either an amazing excuse or Delpopolo is cursed with the worst friends on the planet.
OK, a little tip: Friends of Olympians. Sneaking pot brownies on a friend is never a good idea. But doing it when he's going to be competing in the Olympics, something he's worked for his entire life and that comes with a whole lot of drug testing, is downright terrible.
Delpopolo's Olympic accreditation was canceled, and the IOC asked for the international judo federation to look into further action. The USOC, which said it is committed to clean competition, supported the disqualification. This is the first expulsion from an in-competition test. Delpopolo hopes he will get a chance to redeem himself.
Do you believe Nick Delpopolo's story of his unintentional consumption of pot brownies? Do you think he can successfully redeem himself from this unexpected misfortune? Shout out your thoughts and opinions in the comment box below!
Image: Guardian Expressia