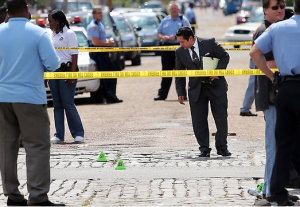 Abdul Aziz believes he was standing right next to a shooter Sunday when gunmen opened fire at a Mother's Day parade in New Orleans, injuring 19 people.
'Minor to severe'
Aziz, 33, a photojournalist, was at the second-line parade when gunfire broke out at the corner of Frenchman Street and North Villere Street. Second-line parades, which involve dancing and brass bands, are a New Orleans tradition. They happen most every Sunday, except during the hottest months in summer, according to Aziz.
According to police, 19 people were injured in the shooting, including two children. Ten men and seven women were among the victims. The children suffered graze wounds. Other injuries ranged from minor to severe.
'Reason unknown'
Shots were fired from different guns, and officers saw three suspects running from the scene, police said. One of the suspects was described as an African-American male, approximately 18 to 22 years old, wearing a white T-shirt and blue jean shorts. No one is in custody.
Police Superintendent Ronal Serpas told CNN affiliate WVUE that it appears "two or three people just, for a reason unknown to us, started shooting at, towards, or in the crowd."
What do you think was the motive behind this Mother's Day parade shooting? Do you think they will be able to catch those responsible for this crime?
Source: Dana Ford, CNN
Image: The Telegraph