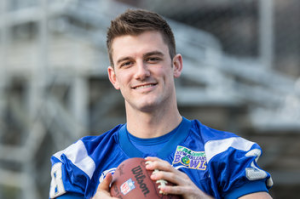 The NFL may soon have its first openly gay player. Earlier this month, Brendon Ayanbadejo, one of the NFL's most prominent gay rights supporters, told ESPN that a handful of players were considering coming out, but according to a report from ! Sports' Jay Busbee, kicker Alan Gendreau will take a different route.
'Groundbreaking move'
Per Busbee:
Alan Gendreau is a former kicker for Middle Tennessee State, where he played with high distinction from 2008 to 2011. He was the leading scorer in Sun Belt Conference history, with 295 points over his career. He's also openly gay, and has been since age 15. And in what would be a groundbreaking move, he's hoping to play in the NFL.
'Equality amongst individuals'
Gendreau, who wasn't drafted last year, is hoping to convince teams to give him a shot at OTAs in the next couple of months. The chance of him earning an invite is low, but according to Busbee's report, many believe he has the talent to play in the NFL.
Should the former Blue Raider make a professional team, this would be the latest cleared hurdle in the fight for equality amongst individuals of all sexual orientations. Gendreau may just be a kicker trying to make the league in the eyes of some, but should he succeed, he will have accomplished far more than that.
Do you think Alan Gendreau will become NFL's first openly gay player? Feel free to voice out your thoughts regarding gay discrimination in the sports world!
Source: Tim Keeney, Bleacher Report
Image: SB Nation