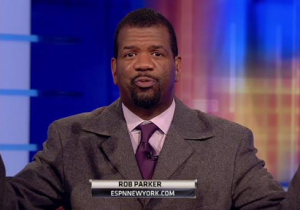 When the subject of Washington Redskins quarterback Robert Griffin III came up on Thursday morning on ESPN's "First Take" show, Rob Parker decided that it was the appropriate time to bring up whether Griffin was black enough or not.
'Cornball brother'
"…My question, which is just a straight, honest question, is … is he a 'brother,' or is he a cornball 'brother?' He's not really … he's black, but he's not really down with the cause. He's not one of us. He's kind of black, but he's not really like the guy you'd want to hang out with… He has a white fiancé, people talking about that he's a Republican … there's no information at all…"
Skip Bayless, never content to let someone else have the last infantile, stupid remark, upped the ante with this question:
"What do RG3's braids say to you?"

"To me, that's very urban," Parker continued, seemingly determined to dig his own professional grave. "It makes you feel like … I think he would have a clean cut if he were more straight-laced or not … wearing braids is … you're a brother. You're a brother. If you've got braids on."
'No basis'
Parker, in his position as a supposed journalist, has insulted an individual of color to a cruel and unbelievable degree by actually bringing Robert Griffin's "blackness" to the forefront, and openly questioning it with no basis in fact, no knowledge of the person, and no sense of responsibility.
We tend to expect preposterous stuff from this show — after all, that's what that show does. But what Rob Parker said went far beyond the parameters of "opinion" and veered quickly into something that should have ESPN seriously considering whether they want Parker representing even their worst traffic jam of a media product.
Do you think Rob Parker went overboard with his comments about RG3's "blackness"? Should ESPN hold on to Parker, or should they start doing something about his "opinion" problems? Feel free to share your thoughts on this latest sports issue!
Source: Doug Farrar, Yahoo Sports
Image: The Sports Bar