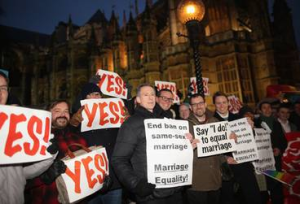 MPs have approved same-sex marriage in England and Wales in a key Commons vote, despite the opposition of almost half the Conservative MPs. The Commons voted in favour of the Marriage (Same Sex Couples) Bill, by 400 to 175, a majority of 225, at the end of a full day's debate on the bill.
'Equality and justice'
Prime Minister David Cameron has described the move as "an important step forward" that strengthens society. Voting lists show that 136 Conservatives opposed the bill. This figure includes two cabinet ministers – Environment Secretary Owen Paterson and Welsh Secretary David Jones – eight junior ministers, and eight whips. Of the remaining Conservative MPs, 127 were in favour, 35 did not vote, and five registered an abstention by voting both in favour and against.
Junior justice minister Helen Grant said: "As Tories we do differ at times. We have squabbles – we're like any other family." But she described the legislation as "a major step forward for equality and justice".
'Landmark for equality'
Deputy Prime Minister and Lib Dem leader Nick Clegg said: "I genuinely believe that we will look back on today as a landmark for equality in Britain… Tonight's vote shows Parliament is very strongly in favour of equal marriage… No matter who you are and who you love, we are all equal. Marriage is about love and commitment, and it should no longer be denied to people just because they are gay."
MPs were given a free vote on the bill, meaning they were not ordered to vote a particular way by party whips. Their decision to back the bill at second reading signifies that they approve of it in principle. The legislation will now receive more detailed parliamentary scrutiny.
How about you — are you for or against gay marriage? Feel free to share your thoughts and opinions regarding this issue!
Source: BBC News
Image: London Evening Standard