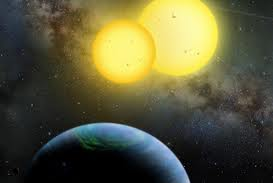 Astronomers have for the first time discovered two alien planets whirling around a pair of stars: a complete solar system with twin suns just like Luke Skywalker's fictional home world Tatooine.
Most stars like our sun are not singletons, but rather come in pairs that orbit each other. Scientists had found planets in these binary systems, so-called circumbinary planets with two suns like Tatooine in the "Star Wars" universe.
To find more circumbinary planets, astronomers analyzed data from NASA's prolific Kepler space telescope, which has detected more than 2,300 potential alien worlds since its March 2009 launch. Kepler had to date detected four systems with circumbinary planets — Kepler-16, 34, 35 and 38. The scientists have now announced the detection of Kepler-47, the first system seen with multiple worlds encircling a pair of stars. The star and its planets, called Kepler-47b and Kepler-47c, dwell about 5,000 light-years away, in the constellation Cygnus, the Swan.
The planets are much too far away to see with the naked eye. Rather, they were discovered by the drop in brightness they cause when they cross in front of, or transit, their host stars. One of the stars is much like our sun, and the other is about a third its size and 175 times fainter. The inner and outer planets are respectively 3 and 4.6 times Earth's diameter — the smaller planet is the smallest circumbinary planet seen yet. The inner world completes an orbit every 49.5 days, while the outer one takes 303.2 days, giving it the largest known orbit for any transiting exoplanet. The stars themselves whirl around each other every 7.5 days.
The scientists published their findings online Aug. 28 in the journal Science. They will also detail their results Aug. 29 at the General Assembly of the International Astronomical Union in Beijing.
Do you think there are other real-life "Tatooine" planets like the one in Star Wars out there? What other amazing discoveries could NASA's Kepler space telescope bring next?
Image: Space