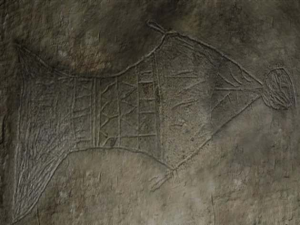 Investigators using a robotic arm equipped with a remote-controlled camera have discovered what is being called the earliest evidence of Christian iconography in Jerusalem.
The newly discovered ossuary carries a Greek inscription calling on God to "raise up" someone, which is being interpreted as an early reference to the biblical resurrection of Jesus. A second limestone box appears to show the carved image of a fish, which may be a reference to the biblical prophet Jonah. This would be a historical first, as references to the resurrection had not previously been discovered before the 2nd century.
"If anyone had claimed to find either a statement about resurrection or a Jonah image in a Jewish tomb of this period I would have said impossible — until now," University of North Carolina scholar James Tabor said in a statement. "Our team was in a kind of ecstatic disbelief, but the evidence was clearly before our eyes, causing us to revise our prior assumptions."
The new discovery is actually part of an earlier finding made by Tabor and his team. However, the Israeli government shut down the initial investigation due to protests from local religious groups. A house was built on top of the excavation site, which is now referred to as the "Patio Tomb," because a patio literally rests on top of the site. Tabor and his team were finally able to receive cooperation from the Israeli government by using the robotic technology to explore underneath the site.
Source & Image: Yahoo News