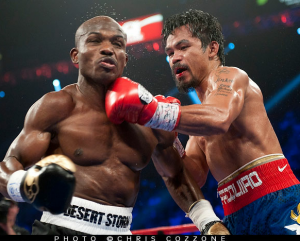 Promoter Bob Arum was still fuming about the split-decision verdict that went against Manny Pacquiao on Saturday and said there would be no rematch with Timothy Bradley unless Nevada attorney general Catherine Cortez Masto launches an investigation.
Bradley, a 4-1 underdog, upset Pacquiao in one of the most controversial outcomes in years to take the World Boxing Organization welterweight title. All three judges scored it 115-113, with Duane Ford and C.J. Ross seeing it in favor of Bradley and Jerry Roth siding with Pacquiao.
The rematch that Bradley thought he would get may be on hold, at least for a while, however. Arum, whose company promotes both fighters, said his feeling that Pacquiao had won a wide decision had not changed a day later. But because of the outcry among the fans and media, many of whom accused Arum of somehow rigging the outcome, the veteran promoter said he would demand an investigation.
Ford spoke by telephone to Yahoo! Sports on Sunday. He said the criticism is a part of the job he accepts, but said those criticizing the outcome are almost certainly not familiar with the way fights are judged.
"If this were American Idol, without a doubt, Manny Pacquiao would have won," Ford said. "But it was not. I gave an honest opinion. I had Pacquiao up 4-2, I think, at the end of six rounds. I thought he hurt Bradley a couple of times early in the fight. But when the bell rang to end that round, it was over and what happens in one round doesn't carry over to the next round. They're separate units.
Bradley's manager, Cameron Dunkin, said he was fine if Arum chose not to arrange a rematch. He said Top Rank promotes Bradley and owes him a fight. If it chose not to make a rematch with Pacquiao, it would have to book a different fight for Bradley. Pacquiao's next fight almost certainly will not be in Las Vegas after the uproar over Saturday's fight.
So, who do you think really won the match — Pacquiao or Bradley?  Did Bradley win the fight fair and square? Voice out your opinions below!
Source: Yahoo News
Image: Fight News