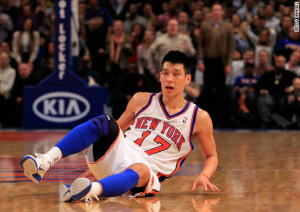 Jeremy Lin will miss the rest of the regular season because he needs knee surgery that will sideline him six weeks and could leave the Knicks without their star point guard in the playoffs – if they make it that far. Lin had an MRI exam this week that revealed a small, chronic meniscus tear and he has elected to have surgery next week in New York.
Speaking slowly during a pregame press conference, Lin was unable to hide his disappointment with the decision that was reached earlier Saturday after a painful workout.
"It (stinks) not being able to be out there with the team," he said. Later, he updated his Facebook page with the message: "Thanks for all the love! (I'll) return from this surgery stronger and better than before … and hopefully in time for the playoffs!"
The Knicks will continue to turn to Baron Davis in place of Lin, the undrafted Harvard alum who became the starter in February and turned in a series of brilliant performances, kicking off a phenomenon that was called Linsanity. Lin is averaging 14.1 points and 6.1 assists, but the numbers only tell a small part of the story.
He was the first player with at least 20 points and seven assists in each of his first five starts since the Elias Sports Bureau began charting starts in 1970. He had a 3-pointer to win a game in Toronto, scored 38 points to outplay Kobe Bryant in a national TV victory over the Lakers, then had 28 points and 14 assists in another nationally televised victory over the NBA champion Dallas Mavericks.
Source: Yahoo News
Image: Ripple's Web