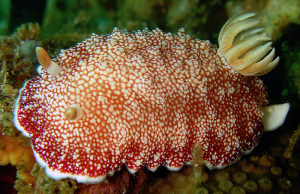 Japanese researchers observed the bizarre mating behaviour in a species called Chromodoris reticulata, a sea slug, which is found in the Pacific Ocean. They believe this is the first creature known that can repeatedly copulate with what they describe as a "disposable penis". The study is published in the Royal Society's journal Biology Letters.
'Simultaneous hermaphrodites'
The sex life of the sea slug is complicated even before detachable organs come into play. Almost all of these creatures, which are also known as nudibranchs, are thought to be "simultaneous hermaphrodites". This means they have both male and female sexual organs and can use them both at the same time.
The Japanese team observed sea slugs that they had collected from shallow coral reefs around Japan. They saw the animals mate 31 times. The act took between a few seconds and a few minutes, after which the creatures would push away and shed their penises, leaving them on the floor of the tank. However, the researchers were surprised to discover that just 24-hours later, the sea slugs had regenerated their male organs and were able to mate again.
//
//
'Disposable penis'
Closer examination of the animals' anatomy revealed that the sea slugs had a large part of their penis coiled up in a spiral inside their bodies, which they would then use to replenish their missing part. The scientists also noted that the penis was equipped with spines. At most, the animals were able to copulate three times in succession, with each bout separated by about 24 hours.
Sea slugs are not the only animals who abandon their penis. Orb weaving spiders are known to lose their male organs after sex, as does a sea creature called the periwinkle and land slugs belonging to the genus Ariolimax. However the researchers believe that Chromodoris reticulata is the first creature known that can re-grow its appendage – and its disposable penis gives it a sexual advantage.
Do you find this creature's disposable body part fascinating? What other bizarrely-structured creatures have you encountered?
Source: BBC News
Image: National Geographic