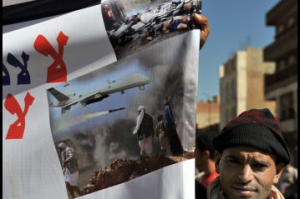 A pair of suspected U.S. drone strikes killed four al Qaeda militants in Yemen as the United States maintained a heightened security alert in the country and urged all Americans to leave immediately.
'Do something'
It is unclear whether the strikes were related to the added security alert in the country after U.S. officials intercepted a message from al Qaeda leader Ayman al-Zawahiri to operatives in Yemen telling them to "do something." The message was sent to Nasir al-Wuhayshi, the leader of al Qaeda in the Arabian Peninsula, the terror group's Yemeni affiliate. U.S. intelligence believes al-Wuhayshi has recently been appointed the overall terror organization's No. 2 leader.
Also Tuesday, the State Department urged Americans in Yemen to leave immediately, citing terrorist activities and civil unrest. All non-emergency U.S. government personnel were also told to leave. Two U.S. military transport aircraft landed in Yemen on Tuesday to evacuate American citizens.
Acting on the intelligence information, the United States heightened its security stance, issuing a worldwide travel alert and closing a number of embassies and consulates over large areas of the Middle East and Africa this week.
'Final stages of planning'
Three sources told CNN that the United States has information that members of al Qaeda in the Arabian Peninsula are in the final stages of planning for an unspecified attack. Recent jailbreaks in Pakistan, Iraq and Libya all have the fingerprints of al Qaeda operations.
Separately, American special forces units overseas have been on alert for the past several days awaiting a mission to attack potential al Qaeda targets if those behind the most recent terror threats against U.S. interests can be identified, a senior Obama administration official told CNN.
When do you think will this security situation go back to normal? Share your thoughts and opinions with us!
Source: Elise Labott and Mohammed Tawfeeq | CNN
Image: Global Post