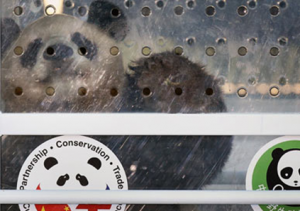 Two giant pandas have arrived in Edinburgh, after a nine-hour journey from China. Edinburgh Zoo's new residents, Tian Tian and Yang Guang, are the first giant pandas to live in the UK for 17 years. They are on a 10-year loan from China for genetics and cognition research.
Chinese Charge d'Affaires Qin Gang added: "The father of Yang Guang keeps the world record of fathering 107 panda cubs, and the mother of Tian Tian, known as Panda Mum, has also given birth to many baby pandas.
Animal welfare campaigners have criticised the zoo for accepting the pandas, saying it is a "primarily commercial deal". They claim it is not a credible way to go about saving the giant panda. Bringing the pandas to Edinburgh has involved a five-year effort by the zoo. The eight-year-old pair will stay at the zoo for at least 10 years. Officials hope their presence will boost tourism and the Scottish economy.
The Scottish government said the loan of the pandas symbolised a "growing friendship" between Scotland and China. The arrival of the pandas coincides with Scottish First Minister Alex Salmond's visit to China to promote business and cultural links.
Deputy Prime Minister Nick Clegg said the arrival of the pandas was a reflection of the strength of the UK's relationship with China. "It shows that we can co-operate closely not only on commerce, but on a broad range of environmental and cultural issues as well," he said.