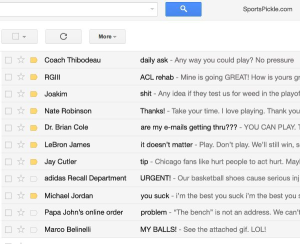 Derrick Rose has mail. Lots of mail, actually. More than Tom Hanks, even. Beyond the Buzzer tweeted a totally fake, but equally believable picture of what the Chicago Bulls superstar's inbox looks like. Almost needless to say, this is absolutely amazing—just hysterical.
'Highly insulting'
Coach Tom Thibodeau appears to he hassling Rose on a daily basis, asking him the same question we've all been asking him since March. Then there's Robert Griffin III, broadcasting how well his recovery is going. He was nice enough ask Rose how he was faring as well, even though we all know there haven't been any real updates for quite some time.
No Rose inbox would be complete, however, without an email from LeBron James, who reminds him that even if he played, the Miami Heat would still win. That's highly insulting, albeit slightly reassuring.
'Not a suitable address'
For those who still blame Coach Thibs for leaving Rose in the game too long last April when he tore his left ACL, you definitely want to turn your attention to the email from Adidas. Rose's injury may have been inevitable, because from what we can see, their shoes cause "serious injury." And here Rose has a lifetime contract with them. Yikes.
Marco Belinelli also hit Rose up. Not to ask him to play or discuss the ongoing severity of his recovery, but instead to discuss the nature of his enormous, er, marbles. That one was bound to make Rose laugh. And let's face it, he could use a good chuckle.  Or maybe a pizza. He has to be exhausted from all that sitting rehabbing he's been doing. Papa John's was kind enough to remind Rose that "the bench" is not a suitable address, though.
Do you find this fake Gmail inbox funny? So, what do you think is up with Derrick Rose right now?
Source: Dan Favale, Bleacher Report

Image: Sports Pickle