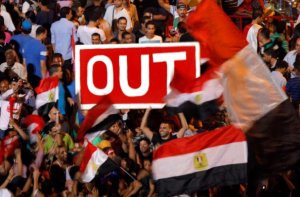 Egypt's military toppled the country's first democratically elected president Wednesday night and reportedly put him under house arrest while rounding up some of his top supporters even as the deposed Mohamed Morsi insisted that he remains the country's legitimate leader.
'Parliamentary elections'
Adly Mansour, head of the country's Supreme Constitutional Court, will replace Morsi as Egypt's interim president, Egypt's top military officer, Gen. Abdel-Fatah El-Sisi said. Mansour was expected to be sworn in on Thursday.
The country's constitution has been suspended, and Mansour will "establish a government that is a strong and diverse," said El-Sisi, head of the country's armed forces. New parliamentary elections will be held, and Mansour will have the power to issue constitutional declarations in the meantime, he said.
'Guarantee our freedoms'
Morsi was elected president in June 2012. But his approval ratings have plummeted as his government has failed to keep order or revive Egypt's economy. The chaos, including open sexual assaults on women in Egypt's streets, has driven away tourists and investors, while opponents say Morsi's rule was increasingly authoritarian.
"The road map guarantees achieving the principal demand of the Egyptian people — having early presidential elections through an interim period through which the constitution will be amended," he said. "So all of us build it together and agree on a democratic constitution, so we can guarantee our freedoms."
Will this recent coup finally pave the way for a real democratic government in Egypt? Feel free to share your thoughts with us!
Source: Ben Wedeman. Reza Sayah and Matt Smith | CNN
Image: Pat Dollard