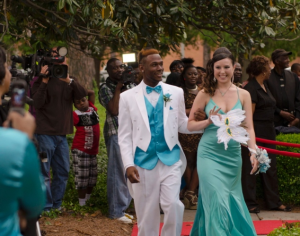 For as long as most remember, Wilcox County High School hasn't sponsored a prom for its 400 students. Instead, parents and their children organize their own private, off-site parties, known casually as white prom and black prom — a vestige of racial segregation that still lives on.
'40 years of local customs'
Wilcox County High School senior Mareshia Rucker and her friends bucked 40 years of local customs this month by organizing their own integrated prom, a formal dance open to Wilcox County's white, black, Latino and Asian high school students. Organizers, both black and white, said they lost friends in the process — a grim experience in the waning weeks of the school year. It's been hard on the rest of their hometown, too.
Why this year? How could they carry out an integrated prom now, but not 1971, 2012, or the decades between? Part of it might be Facebook, students suggested. They're all friends, and that's where evidence of limousine rides and slow dances tick across the screen. Some said it was the outside help, the media attention, the voice of the NAACP. The neighbors who paid for car washes, doughnuts of barbecue plates were key, the students agree. So, too, were the parents.
'No issues'
"When you have people in your county stand with you…it makes everything easier," said Brandon Davis, a white Wilcox County senior who helped to plan the integrated prom. "When my parents told me, 'We will stand beside you and support you,' that was just amazing."

It seemed like what Mareshia hoped for when they started: "If we're all together and we love each other the way we say we do, then there are no issues," she said. "This is something that should have happened a long time ago."
Do you know other towns that still practice racial segregation? How do we overcome racial boundaries?
Source: Jamie Gumbrecht, CNN
Image: NY Daily News