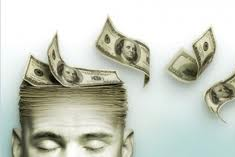 Steve Siebold, author of "How Rich People Think," spent nearly three decades interviewing millionaires around the world to find out what separates them from everyone else. It had little to do with money itself, he told Business Insider. It was about their mentality.
1. Average people think MONEY is the root of all evil. Rich people believe POVERTY is the root of all evil.
"The average person has been brainwashed to believe rich people are lucky or dishonest," Siebold writes. "The world class knows that while having money doesn't guarantee happiness, it does make your life easier and more enjoyable."
2. Average people earn money doing things they don't love. Rich people follow their passion.
"One of the smartest strategies of the world class is doing what they love and finding a way to get paid for it." On the other hand, middle class take jobs they don't enjoy "because they need the money and they've been trained in school…"
3. Average people set low expectations so they're never disappointed. Rich people are up for the challenge.
"No one would ever strike it rich and live their dreams without huge expectations."
4. Average people live beyond their means. Rich people live below theirs.
"The rich live below their means, not because they're so savvy, but because they make so much money that they can afford to live like royalty while still having a king's ransom socked away for the future."
5. Average people focus on saving. Rich people focus on earning.
Siebold theorizes that the wealthy focus on what they'll gain by taking risks, rather than how to save what they have.
6. Average people believe they must choose between a great family and being rich. Rich people know you can have it all.
"The masses have been brainwashed to believe it's an either/or equation," he writes. "The rich know you can have anything you want if you approach the challenge with a mindset rooted in love and abundance."
Do you think like a poor, average, or rich person? Share your thoughts and opinions with us!
Image: Marenda