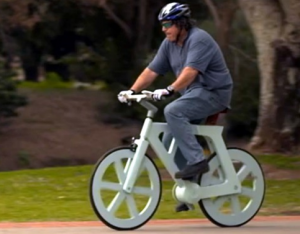 A bicycle made almost entirely of cardboard has the potential to change transportation habits from the world's most congested cities to the poorest reaches of Africa, its Israeli inventor says.
'Mass production'
Izhar Gafni, 50, is an expert in designing automated mass-production lines. He told Reuters during a recent demonstration that after much trial and error, his latest prototype has now proven itself and mass production will begin in a few months.
Once the shape has been formed and cut, the cardboard is treated with a secret concoction made of organic materials to give it its waterproof and fireproof qualities. In the final stage, it is coated with lacquer paint for appearance. In testing the durability of the treated cardboard, Gafni said he immersed a cross-section in a water tank for several months and it retained all its hardened characteristics. Once ready for production, the bicycle will include no metal parts, even the brake mechanism and the wheel and pedal bearings will be made of recycled substances, although Gafni said he could not yet reveal those details due to pending patent issues.
'Major change'
Gafni owns several top-of-the-range bicycles which he said are worth thousands of dollars each, but when his own creation reaches mass production, it should cost no more than about $20 to buy. The cost of materials used are estimated at $9 per unit. A ride of the prototype was quite stiff, but generally no different to other ordinary basic bikes.
Nimrod Elmish, Gafni's business partner, said cardboard and other recycled materials could bring a major change in current production norms because grants and rebates would only be given for local production and there would be no financial benefits by making bicycles in cheap labor markets. Elmish said the cardboard bikes would be made on largely automated production lines and would be supplemented by a workforce comprising pensioners and the disabled.
Do you like Izhar Gafni's new invention? Would you ride a cardboard bicycle?
Image: Autoblog Green