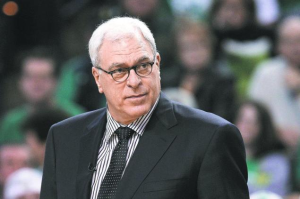 Luckily for the Los Angeles Lakers, Phil Jackson's word is still law in Hollywood. Dwight Howard left an unfamiliar, jilted feeling in the hearts of the Lakers and their fans when he opted to join James Harden and the Houston Rockets rather than return to Tinseltown.
'Left a distaste'
The Lakers aren't used to being cast aside and coming up empty-handed. That's just not how it works. Typically, they get what they want. This time they didn't, and as the Zen Master noted on Twitter, Superman has forever left a tainted imprint on those in Lakerland as the result of his departure.
"Reflection on DHoward's exodus. He left a distaste in Lakerland The Lakers will be fine. Pau fits MDA's style of Off-it was about the future"
Jackson's admittance that Howard left a "distaste" in Los Angeles isn't nearly as important as what follows: He believes the Lakers are going to be fine.
'Without Howard'
Pau Gasol is indeed a better fit for Mike D'Antoni's system than Dwight ever was. Not that he couldn't have been, but he just never embraced the pick-and-roll aspect of Magic Mike's offense. Pau presents no such issues. When healthy, Gasol is a premier screen-and-roll option. His ability to knock down shots from the inside out is also something that gives him an advantage over most centers, including Howard.
Provided Kobe Bryant and Steve Nash are still healthy and the team finds some shooters, the Lakers can make some noise in the Western Conference. Without Howard. Just as much as the Rockets can. With Howard.
Which of the two teams will be stronger this coming NBA season — the Lakers or the Rockets? Do you agree with Phil Jackson's opinion about Dwight Howard's exodus?
Source: Dan Favale | Bleacher Report
Image: NY Daily News