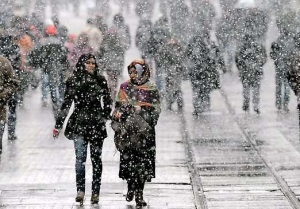 Heavy snow has caused disruption across Europe, carpeting much of Italy to the south and Turkey to the east. The freeze that has swept south through the continent has caused at least 80 deaths, mainly in Ukraine and Poland.
Temperatures were so low that some areas in Romania along the shores of the Black Sea froze. In central Italy, heavy goods lorries were barred from motorways and several top-flight football matches have fallen victim to the wintry conditions. Ukrainian officials reported that the number of deaths attributed to the freeze had risen to 43, with 13 people falling victim to hypothermia in the past 24 hours.
Schools and colleges in the capital, Kiev, were shut on Wednesday because of the severe cold. School closures were also reported in northern Greece, where temperatures of -16C (3F) were recorded. Several towns and cities in Bulgaria saw record lows, with -29C reported in Kneja in the north for the second day running. For much of the country an "orange" alert was in place, warning of dangerously low temperatures.
Snowfalls were recorded as far south as southern Italy and Corsica, where at least 20cm of snow covered the centre of the Mediterranean island. Several football matches in Italy's Serie A were postponed on Tuesday night and there were doubts that Wednesday's clash between Inter Milan and Palermo would take place.
The cold snap, according to forecasters, is due to an area of high pressure that has extended across Europe from Siberia and is expected to reach its peak at the weekend.
Source: BBC News
Image: Turkish News