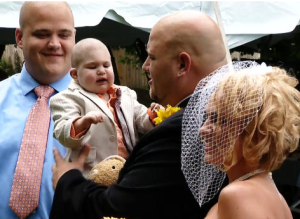 A terminally ill Pennsylvania 2-year-old, whose parents pushed their wedding up by a year to be sure he'd be alive to be part of it, died Monday.
'Last breath'
Doctors told Christine Swidorsky and Sean Stevenson that Logan, their son, had only weeks to live. Logan was born with a rare blood disorder called Fanconi's anemia, which keeps cells from repairing damaged DNA and can lead to certain cancers.
"Sean and I held him all day," Swidorsky wrote on her Facebook page Monday night. "He was comfortable with his medication. Then, at 8:18, my son took his last breath in my arms."
'Dire news'
The couple had been planning to get married next year, but once they got the dire news from Logan's doctor, they decided to move up the wedding, planning it in a week. It took place Saturday, Aug. 3, in Jeannette, Pa., a suburb of Pittsburgh. They held the 12-minute ceremony in the backyard of their home. Logan, carried by Swidorsky, wore a pin-striped suit.
Sean Stevenson thanked friends and family who had donated food and helped out with wedding arrangements so the family could spend much of the day together.
Were you touched by this story? Share your own memorable and inspiring story with a dying loved one!
Source: Sydney Lupkin | Good Morning America, Yahoo! News
Image: CBS News